North American/Rockwell T-2 Buckeye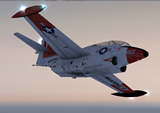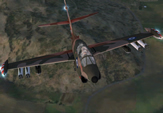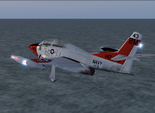 Fly the Buckeye
The North American T-2 Buckeye was the United States Navy's intermediate training aircraft, intended to introduce Student Naval Aviators to jets. It entered service in 1959, and was replaced by the T-45 Goshawk in 2008. The trainer established an outstanding record of safety and reliability while providing training for more than 11,000 students to pilot 18 different models of Navy jet aircraft. The T-2 was also capable of functioning as a light attack aircraft by installing an armament package.
Available versions
Microsoft Flight Simulator X & Lockheed Martin Prepar3D:
FSX version requires either Acceleration or Service Pack 2
Description
The T-2 Buckeye
General Characteristics (T-2C)
Crew: 2 (Instructor pilot, student pilot)
Length: 38.70 feet (11.8 meters)
Wingspan: 38.13 feet (11.6 meters)
Height: 14.80 feet (4.5 meters)
Wing area: 255 ft&sup2 (23.70 m&sup2)
Empty weight: 8,115 pounds (3,681 kilograms)
Max takeoff weight: 13,179 pounds (5,978 kilograms)
Powerplant: 2× J85-GE-4 engines; 2,950 pounds (1,338 kilograms) maximum thrust each
Performance
Maximum speed: 465 knots (862 kilometers/hour) ; at sea level
Range: 930 nmi (1,723 kilometers) (10% reserve)
Service ceiling: 45,200 feet (13,777 meters)
Armament
Two 320-pound (145 kilograms) capacity underwing store stations.
50-caliber gun pods with 100 rounds of ammo.
BDU-33; MK-15; MK-76; MK-82 and 500 pounds GP Bombs.
2.75 in. Mighty Mouse and ZUNI Rocket packs
Tow target containers.
Fire control package (baggage compartment).
An armament accessory kit was available that provided six store stations.